Hyundai Kona Electric 2020 review
---
June 11, 2020
Categories:
Is the Hyundai Kona Electric the best EV on the market today? It argues a very strong case.
It isn't ridiculously expensive – though it is a lot dearer than a petrol Hyundai Kona model – but it has a big claimed driving range, lots of tech and equipment, and strong ownership credentials, too.
With its small SUV size and stance, the 2020 Hyundai Kona Electric is hitting exactly where the market is hottest. So is there a catch? Read on to find out.
Hyundai Kona 2020: ELITE ELECTRIC
Safety rating
Engine Type
—
Fuel Type
Electric
Fuel Efficiency
—L/100km
Seating
5 seats
Price from
$60,140
Does it represent good value for the price? What features does it come with? 7/10
It's hard to call a mainstream-branded small SUV that costs $65,290 (MSRP) good value, especially considering you can get a petrol version of the Kona for some $40,000 less, or $30,000 less if you're shopping Highlander spec-for-spec.
But if you're considering an electric car, you're not likely to be thinking about skimping on a petrol version. And if you consider value for money to be a big electric driving range – the Kona offers 449km (WLTP) – then it is pretty strong bang-for-buck on that front.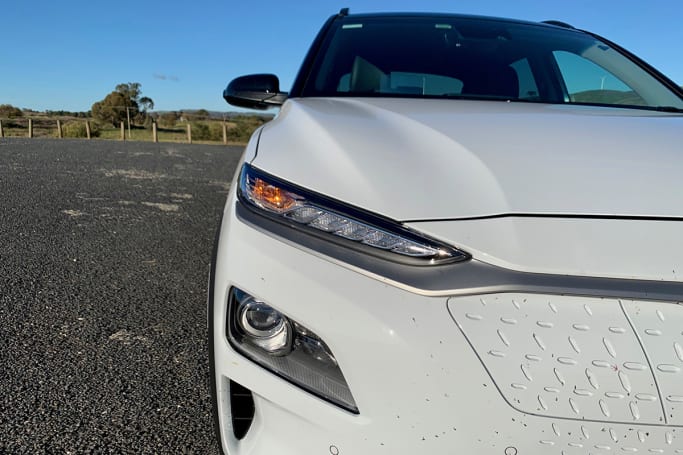 The exterior has LED daytime running lights and LED headlights.
It doesn't have a lot of electric small SUV competition, with only the not-yet-launched MG ZS EV, which is said to offer 262km of range, and it's going to be priced at $46,990 drive-away.
Think outside the small SUV box and you could consider the Hyundai Ioniq Electric hatchback, which is priced from $48,490 and has a claimed range of 373km. Then there's the Renault Zoe (from $47,490, claimed 300km range), or the Tesla Model 3 (Standard Range Plus – $73,900, 460km range).
Now that $65,290 list price is for the top-spec Highlander variant tested here. I don't really know why Hyundai bothers offering a lesser trim grade – the Elite, at $60,740 MSRP – because if you've come that far, chances are you want the one with all the fruit.
And I love figuring out silly things, so how about this: if you want to consider how many dollars per kilometre of range you get, this is how it shakes out: Ioniq Electric Elite – $130; Kona Electric Highlander – $145 (and for the nitpickers, Kona Electric Elite – $135); Zoe – $158; Model 3 Standard Range Plus – $160; ZS EV – $179.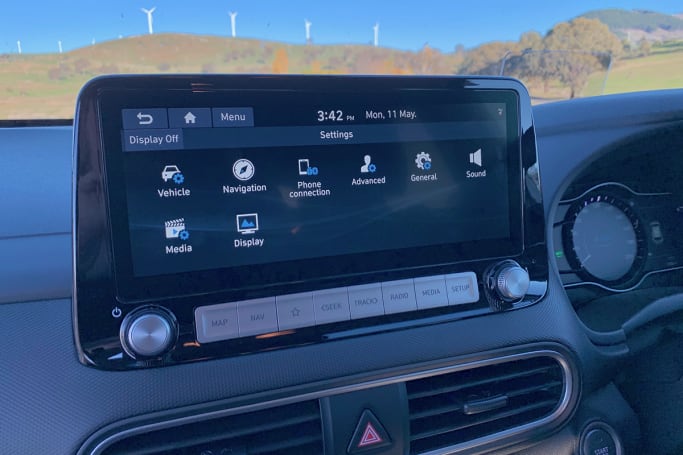 The media system is new – a 10.25-inch unit with all the things you'd expect, like Apple CarPlay and Android Auto.
Anyway, in this trim you get all the goodies available in the Kona line-up, including: heated and cooled front seats with electric adjustment, a heated steering wheel, dual zone climate control, leather seat trim, leather steering wheel, auto headlights, auto wipers, smart key entry, push-button start, electronic park brake, auto-dimming rearview mirror, a sunroof, tinted rear glass, a head-up display and 7.0-inch digital driver info cluster.
The media system is new – a 10.25-inch unit with all the things you'd expect, like Apple CarPlay and Android Auto, Bluetooth phone and audio streaming, USB connectivity, sat nav with live traffic updates, DAB digital radio, and a sound system from Infinity with eight speakers. There's a Qi wireless phone charging pad, and the Highlander grade gets a cloth headlining trim.
The exterior has LED daytime running lights, LED headlights (you get projector beam halogens on the Elite), part-LED tail-lights, roof rails and 17-inch alloy wheels.
No matter which colour (or color, if that's how you prefer to spell it) Kona Electric Highlander you choose, you have the option of either body-colour or a contrasting roof hue. There's Ceramic Blue and Galactic Grey (with available Chalk White roof), Chalk White, Pulse Red and Lake Silver (available with Phantom Black roof), and Phantom Black (with Dark Knight roof).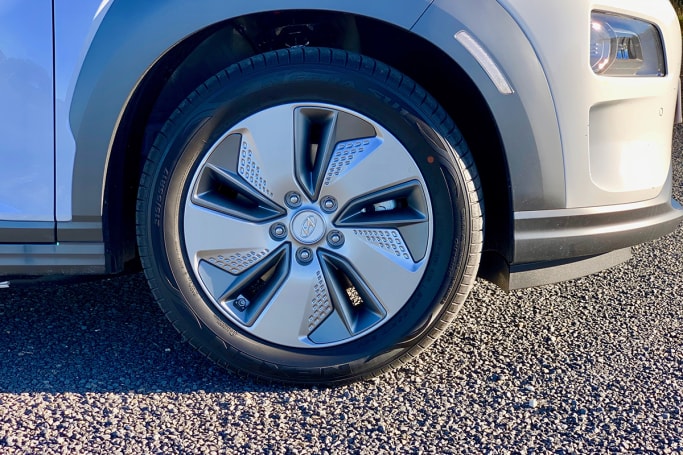 You'll get 17-inch alloy wheels.
Three of these – Ceramic Blue, Galactic Grey and Chalk White – can also be optioned with Stone Grey/Blue leather interior trim. The standard is black leather, and that's what you get on the rest.
Is there anything interesting about its design? 7/10
Look at it from the outside and you mightn't immediately recognise it as an electric car. It is rather conventional, compared to some other EVs out there.
The telltale changed bits compared to the petrol Kona models include the lack of 'grille' at the front.
The telltale changed bits compared to the petrol Kona models include the lack of 'grille' at the front, dinner plate wheels designed for aerodynamics, and model-specific rear bumper treatment. Oh, and of course there are 'electric' and 'BlueDrive' badges around the body, too.
The grille is a contoured plastic panel and that's where the charge port is, too. And my OCD itch is scratched by Hyundai's attention to detail, with there being two cutouts for charge ports, though only one opens.
The appeal of the Kona Electric might be that it doesn't look too different to a regular Kona, but some buyers might find that a problem: you are, after all, paying between $30,000 and $40,000 more than a petrol-powered Kona.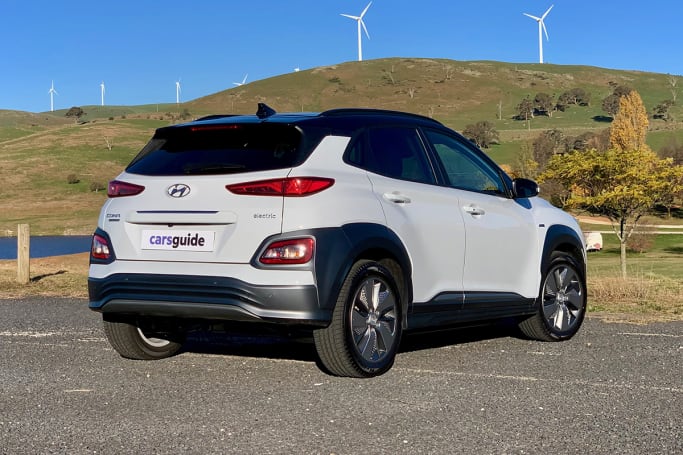 The Kona Electric might be that it doesn't look too different to a regular Kona.
Inside there is a bit more that helps separate it from regular Kona models, including the centre console area and the newly fitted, upgraded 10.25-inch media screen in the Electric – that screen will be rolled out to other Kona models in 2021.
It's not as practical as a regular Kona, because the floor pan of the Kona Electric has been lifted to fit the battery pack below. Take a look at the interior images, but we'll get to more on the practicalities below.
How practical is the space inside? 7/10
It really depends what type of small SUV customer you are. In my mind, there are two different buyers of models in this part of the market: those who want big practicality and clever space utilisation in a smaller package; and those who are more interested in a compact footprint and higher seating position.
If you fall into the latter camp, then the Kona is likely to appeal to you. It isn't as smartly packaged as a Honda HR-V, VW T-Cross, or even its smaller sibling, the Hyundai Venue. But it's more accommodating than a Mazda CX-3.
That said, you might be single, or in a couple without kids, and a car like this might be the right size for your lifestyle. In that instance, rear seat room or boot space mightn't be that big of a deal.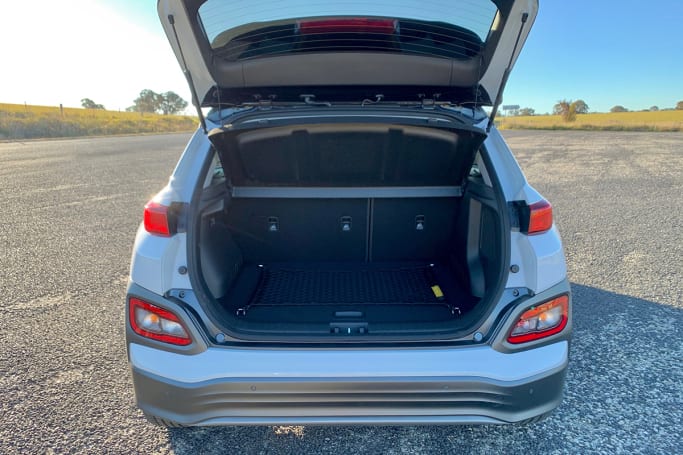 Boot space in the Kona Electric is smaller than a petrol Kona at 332 litres (VDA).
Boot space in the Kona Electric is smaller than a petrol Kona. The cargo capacity is 332 litres (VDA), which is 31L smaller than the petrol. And in the petrol model you get a space saver spare wheel, where in the Electric there's only a repair kit.
As mentioned above, the battery pack is under the floor of the Kona, and that means there's limited foot room for rear seat passengers, and your knees are pushed up a bit as a result – and knee-room was already pretty tight – so this is better suited to children in capsules or boosters, or anyone smaller than average. Headroom is okay, but at 182cm sat behind my driving position, I wasn't overly comfortable.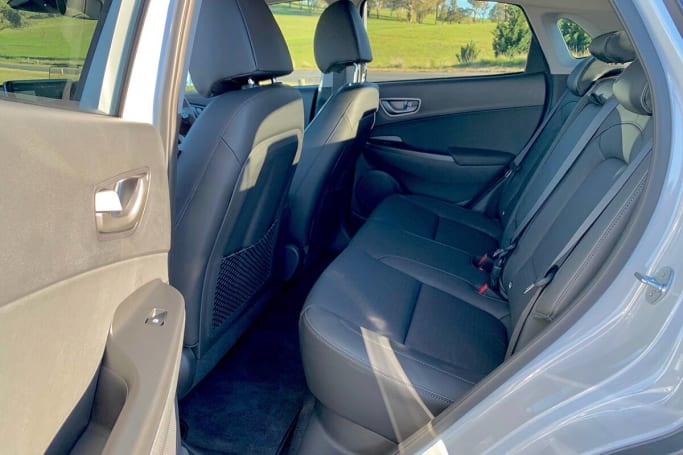 There's limited foot room for rear seat passengers, and your knees are pushed up a bit as a result.
In the back there are mesh map pockets, there are door pockets with bottle holders, and there's a flip down armrest with cup holders. No rear air vents, but you don't really need them in a cabin this compact.
The front seat area is a bit more enjoyable, with plenty of nice bits – and the push-button gear selection system is just one of the nice things.
There are heated and cooled seats and a heated steering wheel that definitely come in handy on cool mornings (I took advantage of these during my loan), and there are good storage options available, too: a pair of cup holders between the seats, a covered centre console bin, a storage trench for wallet/keys/phone with wireless charger, plus a storage shelf below that bit, and bottle holders in the door cards.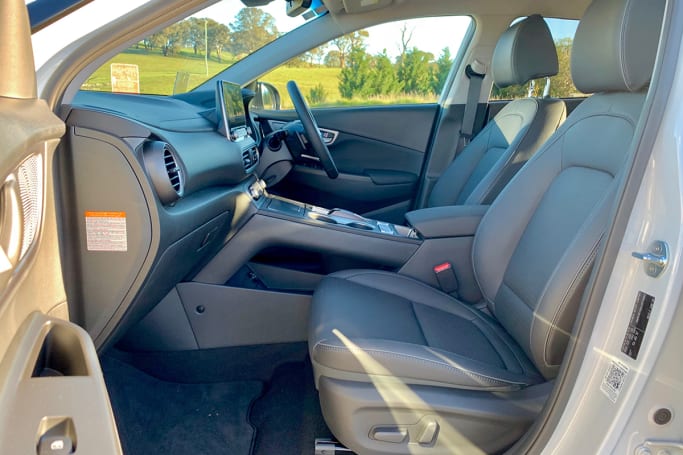 The front seat area is a bit more enjoyable with heated and cooled seats and a heated steering wheel that definitely comes in handy on cool mornings.
Then there's the aforementioned new media screen, which at 10.25-inches is bigger than before (previously 7.0-inch on Elite, 8.0-inch on Highlander), and it has a new skin display for the software that is crisper and a little easier to navigate than before. It's a nice little tech improvement, loads quickly, and the widescreen display looks really tidy.
There are still hard buttons (thank goodness!) below the screen, and volume and tuning knobs, and it's easy enough to rest your hand on the surface below the screen to pick through the menus on screen.
There's a digital driver info screen with all the electro-centric stuff you'd expect, like range, energy consumption and you can have a distance-to-empty display on both screens, if you're edgy when it comes to range anxiety.
So for a couple, the Kona Electric is good. For a young family, it might be too tight.
What are the key stats for the engine and transmission? 8/10
The Kona Electric has a front-mounted permanent magnet synchronous motor, which produces 150kW of power and 395Nm of torque.
The Kona Electric has a front-mounted permanent magnet synchronous motor, which produces 150kW of power and 395Nm of torque.
It uses a single-speed reduction gear transmission and sends its force to the front wheels only. Yep, it's 2WD/FWD, and there's no all-wheel drive (AWD) or four-wheel drive (4WD) version of the Kona Electric available. You can get an AWD Kona in petrol guise, if that's important to you.
The battery pack is a lithium-ion polymer pack with 64kWh capacity, which is claimed to be good for 449 kilometres of range on the WLTP standard. On test, this car showed 440km range when "full" of energy.
How much fuel does it consume? 9/10
The Kona Electric is claimed to consume electricity at a rate of 15.3kWh per 100 kilometres – and if you're unaware of what that means, it's just like petrol use: the lower the number, the better it is in terms of efficiency.
So, 15.3kWh/100km is rather efficient considering a Mercedes EQC has a claimed consumption of 21.4kWh per hundred, and a Tesla Model 3 Standard Range Plus offers 18.8kWh/100km.
Part of that comes down to the weight of the Kona Electric, which is on the low side for a full electric vehicle – the quoted kerb weight is 1685kg.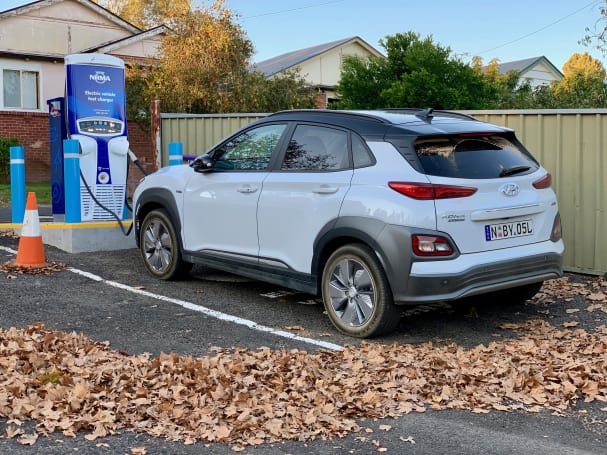 If you have access to a 50kW fast charger you'll get to 80 per cent charge in about 75 minutes.
The best bit is that the claimed consumption rate is almost bang-on what you can expect to see in mixed driving. I did 700 kilometres in the Kona Electric over my week with it, including some long highway drives with prolonged hilly sections (Sydney to Cowra on Bells Line of Road, and back to Sydney on the Great Western Highway), and I saw a returned fuel consumption readout of 15.5kWh/100km. There was a bit of urban hustle in there, too.
What about charging times? If you have access to a 50kW fast charger (as I did in Cowra – be sure to check out the PlugShare app to see where your nearest quick charge points are), you'll get to 80 per cent charge in about 75 minutes. Find a 100kW charger (which is the maximum input for Kona Electric) and you should achieve 80 per cent in 54 minutes.
If you instead plan to get a home charging station (outputting 7.2kW) the charge time is said to be 9 hours and 35 minutes. If you need to use the "emergency charging cable" from a standard powerpoint, the charge time is estimated at 28 hours. You can set the car to run off-peak charging, too, as well as use the Hyundai app to set parameters for how you'd like the car to be primed (temperature, seat heating, steering wheel heating etc) before you set off.
The Kona Electric have has a Type 2 combination plug.
What charge plug does the Kona Electric have? It's a Type 2 combination plug.
What's it like to drive? 7/10
The Kona Electric is a really compelling option for urban-dwellers who might venture away for weekend drives – and it's a surprisingly adept highway driver, so if you do distance commuting, this could be a really great choice.
It's mostly pretty comfortable to drive over decent distances, though if you're on country back roads you might notice that the extra body stiffening and firmly tuned suspension can feel a little terse.
It's mostly comfortable enough though, and chews up motorway driving or urban driving easily.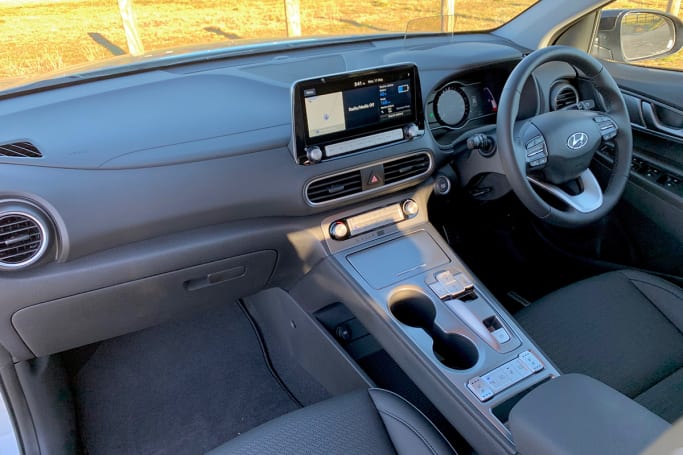 It's mostly pretty comfortable to drive over decent distances.
The steering is predictable, and like the suspension it has been tuned by Hyundai's local team to offer good engagement for the driver. It's nicely weighted, and in that respect it's just like a regular Kona petrol. If you like to drive, this is a far more enthralling experience than the Ioniq Electric, for instance.
There's not too much wind noise or road roar unless you're driving on coarse-chip roads, and you'll notice concrete motorway joins – but that's partly down to the fact there's no engine noise or vibration to hide those usual secrets.
The motor is very impressive, and there's enough torque from a standstill to get the Kona to squirm, with noticeable torque steer (where the wheel tugs to the side) when you flatten the throttle. That's partly down to it being front-wheel drive, and also because the tyres aren't terrific (they're eco-focused Nexen N Fera 215/55/17s).
But in regular driving, when you're driving with energy consumption and range in mind, you'll notice that it's a very agreeable vehicle in most situations.
I will say, though, that cold weather isn't it's friend. I mean, cold weather is the friend of no EV, but on my return trip from Cowra to Bathurst I had stop off and do a quick top up. It was 4 degrees Celsius when I left, and I dropped 160km of range in just 117km travelled. I was even being careful not to use the climate control, which sucks about 50km off the range meter. Instead, the heated seat and steering wheel did the job a treat for me.
Anyway, I stopped off, got 10 minutes of electricity from the free NRMA charger in Bathurst, and that put an additional 40km of range on the readout.
Also, the brakes – which heavily rely on regenerative braking for hills to recuperate potentially lost energy – were nicely natural in their feel through the pedal.
And the regenerative braking worked a treat, too: from Mount Victoria (1050m above sea level) on the Great Western Highway to Penrith (25m above sea level) I used just 4 kilometres of battery range, while covering 64km of descending distance, through about 20 sets of traffic lights.
Warranty & Safety Rating
Basic Warranty
5 years / unlimited km warranty
ANCAP Safety Rating
What safety equipment is fitted? What safety rating? 8/10
Every Hyundai Kona model is covered by an ANCAP five-star crash test rating awarded in 2017, including the Hyundai Kona Electric.
And this model has a strong standard safety technology suite, including auto emergency braking (AEB) with pedestrian detection, adaptive cruise control with stop and go, plus lane keeping assistance and lane departure warning, along with blind spot monitoring, rear cross traffic alert, high beam assist (Highlander only) and driver attention warning.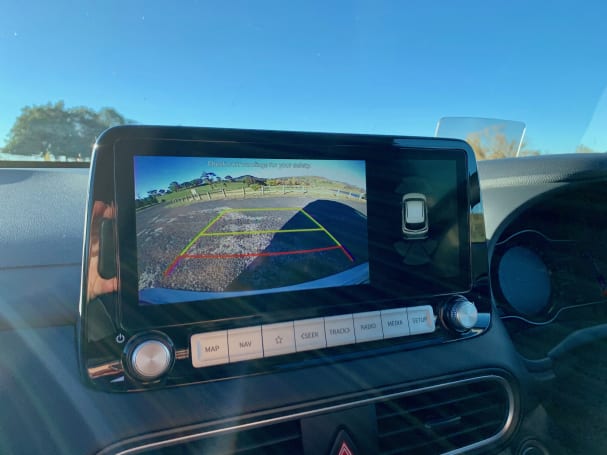 Included in the safety gear is a reversing camera and rear parking sensors.
There is a reversing camera, rear parking sensors, front parking sensors (Highlander only), and all Kona Electric models come with six airbags (dual front, front side, full-length curtain). There are two ISOFIX child seat anchor points and three top-tether restraints for baby seats.
Missing elements include cyclist detection, rear AEB, front cross traffic alert. Perhaps an updated version of the Kona Electric – possibly due in 2021 – could introduce those technologies.
What does it cost to own? What warranty is offered? 8/10
Hyundai backs its models with a five-year unlimited kilometre warranty plan. Electrified models in the brand's range see a further eight-year/160,000km warranty plan for the battery pack.
The brand requires that you service the Kona Electric every 12 months or 15,000km, whichever occurs first. There are fewer moving parts in an electric car, and therefore fewer things to potentially go wrong and cost you money to maintain, so it's no surprise that that brand's servicing costs for the electric SUV are low.
You can pre-purchase service plans in blocks: three years/45,000km ($495); four years/60,000km ($660); five years/75,000km ($825). Or if you go service-by-service, the costs are pegged at $165 per visit.
For some context, the five-year plan for a petrol Kona costs between $1420 and $1430 – and the latter is for the turbo-petrol model that needs servicing even more regularly (12 months/10,000km).
Hyundai includes free roadside assist cover for up to 10 years.
Verdict
If you must have an electric small SUV, and it must have a decent amount of electric driving range, then the Hyundai Kona is the only choice you've got in Australia until the MG ZS EV arrives, and even then the Kona will leave that car in the shade for range. It really is one of the best EV options out there right now, all things considered.
However, that driving range comes at a cost. If money is no object, buy the Kona Electric. But one minotr catch: I'd recommend you take a look at the Ioniq Electric too, which is better value for money and doesn't have much compromise in terms of range, either.